How to travel with kids in tow
This family found ways to make traveling fun for Mom, Dad – and son.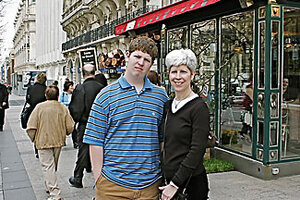 Richard Moed
When our son, Alex, was young, he hated to travel. We suffered through temper tantrums in London, Paris, Brussels, and Naples. We endured refusals to visit one more museum, even if it was the Louvre. We coped with a child who balked at eating mussels in Brussels and onion soup in Paris and who insisted he would like nothing more than ordering room service at the hotel and watching TV. At those moments, my husband and I found ourselves wishing that we had left our son home with a relative or wondering if we should postpone traveling until he was in college.
In calmer moments, we knew neither alternative was an option. Loving to travel and eager to share a broader worldview with our son, we knew we had to find a way to make traveling more enjoyable.
Over the years, we have come up with several hard-earned but reliable strategies to help kids cope on long-distance trips.
First, we recognize that some children have trouble adjusting to new environments, food, time zones, and schedules. These children cling to the predictability of routines and favorite food.
So, in advance of a trip to England, we literally gave our son a taste of the new culture by making shepherd's pie for supper. He loved the mashed potatoes, brown gravy, and savory chopped meat.
---