A humble inhabitant of an opulent estate
The blackbird knew nothing of the grandeur of Castle Howard's grounds.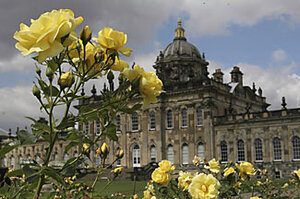 Newscom/File
There can be little doubt that the third Earl of Carlisle was out to make a splash with his new house. In the earliest part of the 18th century, he employed Sir John Vanbrugh to design "Castle Howard" in Yorkshire. Modest it was not. And in 2008 it is still not modest.
Sir John was really a theater man – a playwright – and Castle Howard was his first architectural venture. It was conceived as a gigantically impressive, theatrical, even operatic, monument to grandiose living. Today it is not all as he planned, but it remains – in spite of wars and fires and financial disasters – superb, arrogant, magnificent.
Until the other day, I hadn't visited Castle Howard for 20-something years, although now and then clips of it are shown from that classic TV series "Brideshead Revisited."
I was not really at Castle Howard to admire the exhilarating baroque architecture or gaze at the splendid lakes and fountains. I was there to read letters written by a small girl, and later young woman, to her maternal grandparents at the end of the 19th century and the early years of the 20th.
This girl, Winifred Roberts (later Winifred Nicholson), was to become an artist of notable vision and originality. The letters – the earliest ones "dictated" by her and written by her mother – reveal a child who delighted in flowers and loved painting.
---