3 generations, 1 vacation
Extended families forge closer ties on shared vacations.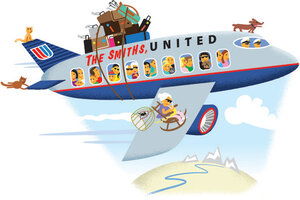 Scott Wallace - staff
When it's time to pack suitcases and head off on vacation, Alicia Rockmore and her family think big. They take a more-the-merrier approach, joining as many as 20 relatives for what she calls "our annual family getaway." One year the group enjoyed skiing in Park City, Utah. This year they'll relax at a resort in Scottsdale, Ariz.
"My husband, daughter, and I love these vacations," says Ms. Rockmore, CEO of Buttoned Up, an organizational firm in Los Angeles. "It's a time for deeper interaction and conversation than just a dinner here and there."
Extended-family vacations such as hers are growing in popularity, travel specialists say. Although no statistics quantify the trend, the travel industry has a name for it: "togethering." Such trips offer a way for time-short, far-flung families to connect and forge new bonds. Groups can include everyone from grandparents, parents, and children to stepparents, in-laws, siblings, aunts, uncles, and cousins.
Some families vote for cruises or resorts. Others prefer tours or adventure travel. Still others keep trips low-key and low-budget by heading for state parks or lakeside cabins. Many avoid cities, where logistics can be daunting.
Whatever the destination, careful planning is essential. Rockmore's family begins by soliciting e-mail suggestions from everyone about preferred destinations. After they agree on a place, one person makes the reservations.
---