'Butterflies, show yourselves!' I shouted.
Suddenly, a small, black shadow darted from above. I craned my neck, hoping to see something.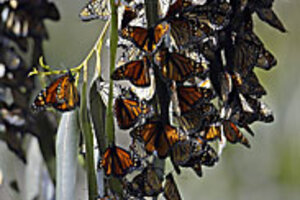 Vern Fisher/Monterey County Herald/AP/File
My husband, Jimmy, and I had been driving up California's Pacific Coast Highway, stopping for a few days in Pacific Grove, a historic town nestled into the Monterey Peninsula's rocky shoreline. We selected the town because of its proximity to Cannery Row and the Monterey Bay Aquarium, the two "must see" tourist attractions in the area. It wasn't until we took a predinner walk around the town that we noticed the signs proclaiming that Pacific Grove is Butterfly Town, U.S.A., and announcing Butterfly Crossings and Butterfly Zones. Intrigued by the town's obsession with butterflies, I pulled our guidebook out of my backpack and flipped it open to Pacific Grove.
I learned that each October, thousands of monarch butterflies flew in from the north and east to winter in the perfect microclimate offered by the town's Monarch Grove Sanctuary. The closed canopy formed by the weave of Monterey pines and Australian eucalyptus trees created a cozy shelter for the monarchs, while underneath, nectar from flowering plants and morning moisture from the area's legendary fog provided sustenance.
---