These kids love being onstage
TADA! Youth Theater in New York offers kids an opportunity to learn what a theatrical career is all about.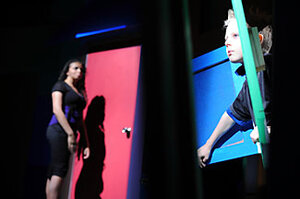 Ann Hermes
Most mornings, Taylor Hogan, a 15-year-old with a singing voice three times her size, wakes up at 5 a.m., and is out the door by 6. (Breakfast? Well, maybe not.) During the school year, when the academic grind gets especially intense, she does half her homework in the evenings, and the other half during lunch, before afternoon classes begin.
But Taylor, who lives in what she calls "a very, very remote part of Queens," in New York City, saves most of her energy for a dimly lit stage on the second floor of an office building in bustling midtown Manhattan. The performance pace – some 10 shows a week, double that on the weekends – is in many ways soothing, she says.
"We're kids, just like you. And we're doing what we want," she says with a smile. "I want people in the audience to relate to that. I want them to say, 'I can be that kid.' "
In this case, "doing what we want" involves a frenetic one-hour montage of singing and dancing called "Everything About a Day (Almost)," which is now in its second week of performances at the TADA! Youth Theater (www.tadatheater.com).
Founded in 1984 by Janine Nina Trevens – now the organization's executive and artistic director – "TADA!" describes itself, in part, as a "theatrical training ground." And for up-and-comers like Taylor, who live and breathe theater, the steady roster of classes and shows is an invaluable outlet.
It's also, Ms. Trevens explains, a stage program uniquely tailored to reach a broad cross section of the greater New York population.
---