A cookbook gift seasoned with love
Novice cooks will appreciate a creatively made binder with favorite family recipes.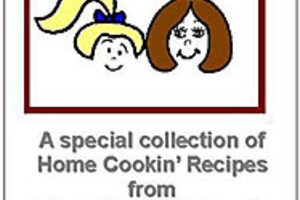 Janice L. Smith
When my daughter, Sarah, was very young, she loved to help me in the kitchen. She would stand on a chair and help me prepare meals or bake cookies. Above the sink, there was a pass-through window, and we pretended that we were doing a TV cooking show.
Sarah is in college now. When she moved from the dorms, where meals are provided, to an off-campus apartment, Sarah was in need of kitchen supplies, including a cookbook. College students do not live by ramen noodles alone!
Sarah asked me to make copies of her favorite recipes from home. I put together a cookbook for her, filled not only with recipes and good advice, but love and happy memories.
I typed the recipes on the computer and printed them in color. I bound the cookbook in a ringed binder so that she can add recipes to her collection. Then I inserted cover art into the plastic pocket on the front.
I included some fun photos and colorful clip art on the recipe pages and the section dividers. The cookbook, "Let's Go Out to the Kitchen," is divided into six sections: "Main Dishes," "Sweets and Desserts," "Side Dishes," "Appetizers and Snacks," "Soups and Sauces," and "Beverages and Breakfast."
The original contained 53 recipes. Sarah has already added to it. Recipe titles include "Mom's Cream of Anything Soup Mix," "Bodacious Biscuits," and "Perfect Pancakes." Specific advice for recipe success is listed on the individual recipe pages. General tips for better baking and cooking results are printed on an appendix page. Other appendices include an ingredient substitution chart and glossary of kitchen, cooking, and baking terms. Economical shopping suggestions and creative use of leftovers are featured as both an addendum and on some recipe pages.
When the book was complete, I copied it onto a CD. I am now in the process of adapting "Let's Go Out to the Kitchen" for my son's girlfriend and for a newlywed niece. I will remove the inside jokes and make other special changes for each young woman.
You can make a cookbook of your own featuring family favorites. Simple recipes with fewer ingredients are better choices for novice cooks. This kind of cookbook makes a great gift for a wedding shower, housewarming party, college-bound student, or any occasion.
---