Grandmother worked hard for the right to vote
A writer remembers her grandmother's stories of being a suffragist.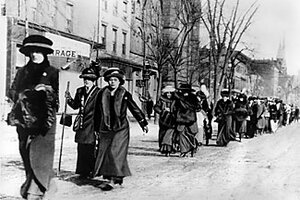 Courtesy of Patricia Riddle Gaddis
Aug. 18 is a very special day to me. I honor this day each year because it marks the anniversary of the ratification of the 19th Amendment to the Constitution, which guarantees all American women the right to vote.
Throughout the 19th century, several generations of women lectured, wrote, marched, and lobbied to achieve what was considered to be a radical change to the Constitution.
My grandmother was one of those women, and she never took her right to vote for granted.
When I was a little girl, I spent a great deal of time with my grandmother. My father was ill, and in the 1960s, children under the age of 12 weren't allowed to visit patients in the hospital. Consequently, while my mother and older siblings spent time with my dad, I was with my grandmother.
On summer evenings we would sit on her big front porch and she would tell me stories of her youth. Born in 1885, my grandmother was strongly influenced by the writings of Elizabeth Cady Stanton and Susan B. Anthony, preeminent advocates of women's rights.
I never grew tired of hearing her talk about growing up during a time in which women were not allowed to vote or hold public office.
In her younger days, my grandmother wanted to become a notary public, a position held only by men at the beginning of the 20th century. My grandmother, along with many other women, wrote letters to legislatures, asking them to expand the qualifications of a notary public to include women.
---