Who's coming to Sabbath dinner?
An Orthodox Jewish family hosts curious strangers at weekly meals.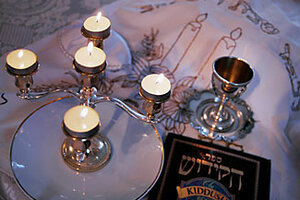 Rafael Ben-Ari/Chameleons Eye/Newscom
As the Jewish Sabbath approaches each week, my kids don't ask what I'm making for dinner. Instead, they ask, "Who's coming for dinner?" This is because they know that while I might choose some exotic Thai or Moroccan food, it's our guests who really spice up our Sabbath and holiday meals.
We often meet our guests for the first time when they walk through our front door. They have been matched with us as part of our synagogue's outreach efforts to offer a taste of Jewish tradition to those who are new to it and want to see what it's all about.
While our family is Orthodox, we know that our guests are not. Part of our job as good hosts is to be welcoming and nonjudgmental, learning about them during our dinner discussions. Since I also grew up in a fairly secular family, I know from experience how off-putting or intimidating it can be to meet someone stamped with the Orthodox label.
Frankly, I never imagined I could have anything in common with "those people" who didn't drive on Saturdays and were busy checking kosher symbols on food packages at the market. This background of mindless prejudice is now a plus for me, however, since I think it helps me understand where some of our guests are coming from.
My goal is to have them leave our table thinking, "You know, I could relate to those people!" A few weeks ago, I asked one of my guests if he used Twitter. He nearly reeled backward in shock, not expecting that someone as "Orthodox" as I would even know about some of the latest in social networking.
---