What Mom knew about pie crust
As she guided me through the doughmaking process, she also taught me how to cook from the heart.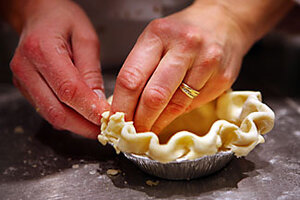 Melanie Stetson Freeman/The Christian Science Monitor
Sometime during the first year I was married, back in the 1960s, my mom taught me how to make a pie crust. She didn't begin by handing me a recipe to follow, as I expected. Instead, she got out a mixing bowl, some all-purpose flour, salt, shortening, some cold water in a Pyrex measuring cup, a pastry blender, and a fork.
At first I assumed she was going to make the pastry, without a recipe in sight, as I watched. But that's not what she had in mind. I'd be the one to make the pie crust, as she watched, instructing me.
It was a deceptively simple procedure. She had me place a few scoops of flour into the mixing bowl and add a bit of salt. Then she had me spoon a good amount of shortening into the bowl.
The pastry blender was a U-shaped device with maybe five or six rounded wires attached to a wooden handle. The idea was to cut the shortening with it until there were pieces about the size of small peas evenly distributed throughout the flour.
Next, she had me add just enough of the cold water so that as I stirred the mixture gently with the fork, everything began to cling together. When that happened, she had me scoop the dough out of the bowl onto a floured board and gather it together, turning it a few times and gently kneading until it formed a ball.
The process wasn't as magical as it might sound. My mom's running commentary, advice, and direction, along with my constant questions, like "Is this enough? Is that too much? Am I doing this too hard?" was the frame of the lesson. The heart of it was the sensory experience of actually making the pastry myself.
I began to understand that there's a lot more to cooking than following a recipe and hoping for the best. It's a full-participation event where all the senses play a part, and, over time, I learned how each one helps ensure that the results are predictable, consistent, and delicious.
---