When milk arrived on the doorstep
Our milkman brought us friendship along with his dairy products.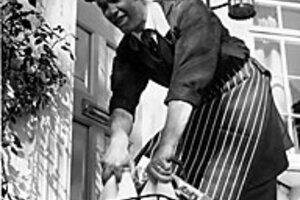 Fox Photos/Getty Images/NEWSCOM/File
The comedian Jerry Seinfeld has a short, hilarious monologue about the panic that ensues when families realize they're out of milk, or that their milk is past its expiration date.
He hits the nail right on the head. In my home, "milk awareness" is also an impulse. I don't even put milk on the shopping list. I don't have to. Reflexively, before I leave the house, I go to the refrigerator to verify the supply. It's like checking the fuel level with a dipstick before setting off in a small plane. Must be done.
When I was a kid growing up in New Jersey in the '60s, this concern did not exist. We – along with millions of other Americans – had a milkman who assumed responsibility for my family's supply. His name was Mr. Basille. He wore a white cap, drove a white truck, and was jolly. His most intriguing gloss, for this 5-year-old, was the coin changer hooked to his belt. I couldn't take my eyes from it. He noticed this one day during a delivery and allowed me to depress one of the levers, which led to the discharge of a quarter into my grubby little hand. When I moved to give it back to Mr. Basille, he said, "Keep it. I've got a load of 'em."
Of course, the milkman delivered more than milk. There was cheese, butter, and eggs, and – I can still taste it – chocolate milk. Another boon was that one didn't have to be home to accept delivery. Every porch had a small, insulated, aluminum box which was more than a drop-off point for the goods; it was also a sort of communications junction between my family and Mr. Basille. If we needed to modify our order, my mother would pen a note – "Please add a quart of buttermilk next delivery" – and place it in the box along with the empty bottles. And lo and behold, the buttermilk would magically appear.
---