My neighbor is running for president
Barack Obama? Oh sure, he's just a guy from the next block over.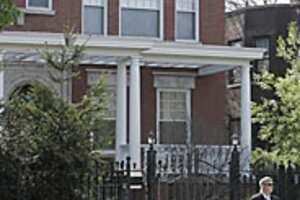 Charles Rex Arbogast/AP/File
Something had changed in my old neighborhood since the last time I was home. It had changed, in fact, in just the previous week, since the close of the Democratic National Convention.
I drove toward the lake down 51st Street in Chicago, in the home stretch of a 12-hour car trip from Atlanta. The infamous boarded-up boulevards of the city's South Side gave way to the manicured, middle-class neighborhood where I grew up.
Then abruptly on my left emerged a police barricade, stretching for a couple hundred yards. They were the kind of cement roadblocks I'd only seen in photos of Iraq. The corner bus stop had been removed and Chicago Police Department cars lined the street. Plain-clothed, humorless men were milling around everywhere, almost daring pedestrians to linger too long.
All this because the neighbor, around the block from the apartment where my father still lives, is running for president.
Barack Obama has lived in Hyde Park for years, has taught there at the University of Chicago law school where my parents graduated and my father still works, has eaten with his family in the same local dives everyone I know here frequents.
Of course, all of this has only become a big deal in the past year, as "Obama" has become a root word and as this neighborhood has been outed as the cauldron of "Obamamania."
---