In East Berlin, a train station becomes a haven for kindness
One woman has never forgotten the stranger who helped her return to safety in a divided city.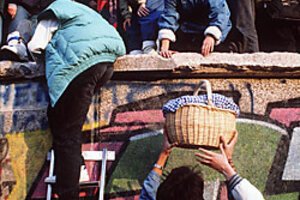 R. Norman Matheny/The Christian Science Monitor/FILE
Next year, Berlin will be marking the 20th anniversary of the fall of the Berlin Wall. I was not there for that momentous event, but I was in Berlin in December, 1961, four months after the wall had been built.
It was a cold, snowy December, and it was my first visit to the city that, from 1871 until the end of World War II, had been the capital of all Germany. At the time of my visit, it had been divided among the United States, Britain, France, and the Soviet Union. Only the Eastern part of it was still a capital – the capital of the German Democratic Republic. Staying in the West as I was, I had seen some of it, but I wanted to see it all.
So I walked through Checkpoint Charlie into the Eastern, Soviet-controlled part of the city. I remember that I found a museum of modern art and went inside, but the walls were bare. I asked at the desk – in pidgin German – where the art might be.
---