Thanks to those who 'guard the walls'
When a marine walked into a restaurant, a woman began thinking about all the people who have served their country.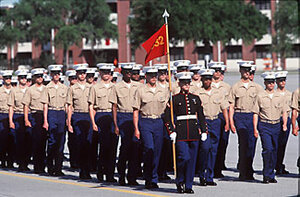 Melanie stetson freeman/staff/file
The other day my daughter and I met at the Devens Grill in Fort Devens, Mass., for a bite to eat and some chat time. As we entered the front door, a marine in full dress uniform caught my eye.
"Wow," I said to my daughter, almost walking into a table I had failed to notice, "whoever designed those uniforms should be designing clothes for civilians as well. We need someone who can get the kids away from those belly shirts and pants worn so low I don't want to know what's holding them up."
My daughter laughed. She's over 30, so she can afford to laugh at such fuddy-duddy comments by her mother.
When we got settled at our table, I felt bad for temporarily reducing the US Marine Corps to a statement of fashion.
After a moment, I started to think about what these men represent.
As actor Jack Nicholson so eloquently said in the movie, "A Few Good Men," our servicemen and women guard the walls. We sleep beneath the blanket of the freedom that they provide.
I wonder how many of us, as we climb under our covers each night, think about the fact that we can go to sleep without fear and that we live in a country with liberty and justice for all.
In America, we are free to speak, to worship, and vote for our leaders. We are even free to disagree with the way our country is being run, and, most important, are free to do something about it.
Sure, our leaders have made decisions we disagree with, especially when it comes to defending democracy.
We all have opinions on the morality, purpose, and necessity of each war as we wait for history to record which ones most people agreed were "right." But the men and women who have stood on the wall did so without question, without doubting the orders they were given. America's soldiers held that wall for us, right or wrong.
---