Petal power: creating joy in a vase
Two volunteers learn how to make dazzling arrangements for a New Jersey congregation.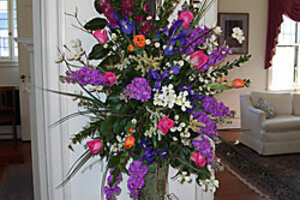 courtesy of Timothy Mannion
Gifted amateurs – with no background in horticulture or floral design – can learn to create inspired flower arrangements. Tim Mannion and Gordon Frey of St. Luke's Episcopal Church in Montclair, N.J., are perfect examples.
Prior to arriving at St. Luke's, neither Mr. Frey, a faculty member at New York's Fashion Institute of Technology, or Mr. Mannion, who spends his weekdays at a job in information technology, had worked with flowers. Now the two, assisted by a handful of dedicated volunteers, create singular arrangements for Sunday services, feast days, and church celebrations.
Both men were inspired to join the church's flower guild after seeing designs created by its founder, Mary Ann Renn, a woman whose many talents include gardening, flower arranging, and motivating church volunteers.
After teaching her new volunteers the basics, Mrs. Renn let them learn on the job. "I knew right away that you knew what to do," she reassured Frey as he began to work on his first arrangement.
Now, with Renn busy running the church's successful soup kitchen, Frey and Mannion head the flower guild.
---