For kids: Down on the turkey farm
These native American birds find a home in the Alabama countryside.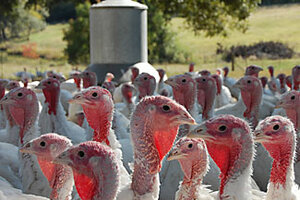 NICK THOMAS
Each year, an estimated 271 million turkeys are bred in the United States. While most are raised by several large companies, there are still a few smaller, family-owned turkey farms scattered across the country.
In central Alabama, Bill Bates has been raising turkeys on his 900-acre farm since 1946. This year, he expects to produce about 60,000 free-range turkeys. These animals have lived mostly outdoors on about 30 acres of land dotted with shady pecan trees.
"We keep them inside until they're 7 weeks old, then move them outside," says Mr. Bates from his farm near Fort Deposit.
The male and female turkeys are raised separately because they have different nutritional requirements – the males are slightly larger and need more protein. Freshwater is pumped from a nearby lake, and massive 1,000-pound self-feeders tower over the birds to provide a banquet of corn 24 hours a day. It takes three to four months and about 75 pounds of corn to raise one of Mr. Bates's turkeys.
Like many bird species, turkeys tend to flock together for safety. But their snowy white feathers and bright red heads make young turkeys an easy target for hungry farm predators looking for a quick snack. So Mr. Bates uses electric fences and noisy cannons to scare off the coyotes, raccoons, and owls. The gas-powered cannons are placed around the farm and detonate with a loud "boom" every few minutes. "It doesn't bother the turkeys," says Mr. Bates. "They get used to it and go right on eating."
About 90 percent of all commercially raised turkeys have white feathers. But their ancestors actually had dark feathers. "It was done by selective breeding," explains Mr. Bates. He says that many years ago, scientists looked for dark- feathered birds that had a few white feathers, too. "They picked out the ones that had the most white feathers, and, after breeding for several generations, they produced a turkey that had all white feathers."
---