Bacon with dessert?
Chefs nationwide are pairing up sweets with a surprising savory.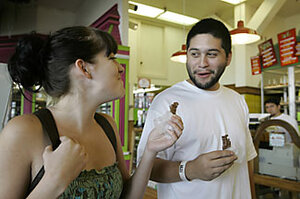 Eric Risberg/AP
"Bacon maple? There's actual bacon in that cupcake?" an incredulous visitor blurts out after scanning the selections at More, a sleek modern cupcake boutique in Chicago's Gold Coast neighborhood.
Owner Patty Rothman, who offers a variety of bacon-infused cupcakes – sweet bacon maple, savory BLT, and a brand-new, bacon-apple-cinnamon – was hoping for just this reaction.
"Everybody in food is pushing the envelope," says Ms. Rothman. "It's bacon, everybody loves bacon."
It seemed like an odd flight of fancy when Vosges Haut-Chocolat in Chicago first created the Mo's Chocolate Bar studded with applewood bacon early last year. But this combo of swine and sweet has caught on, and now desserts that pair bacon with chocolate, maple, and bananas are flying out of high-end kitchens across the country.
And it's not just American chefs: Nitro-Scrambled Egg and Bacon Ice Cream served with Pain perdu (a.k.a. French toast) is a standout on the $200 tasting menu at The Fat Duck in Bray, England, where well-heeled foodies go to experience chef Heston Blumenthal's molecular-tinged cuisine.
"More than anything else, I think this is 'The Year of the Pig,' " says Erik Van Kley, sous chef of Le Pigeon in Portland, Ore.,which serves a Honey-Apricot Cornbread Pudding draped with Neuske's bacon. "There are two camps of cooking: molecular and real grass-roots cooking. Both camps are turning to the pig."
---