Ignoring the Christmas letter dos and don'ts
Sometimes there is no right way to express what is in our hearts.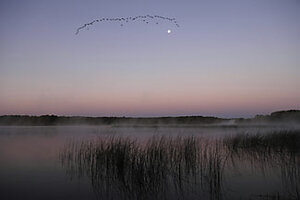 Andy Nelson/The Christian Science Monitor/File
My knowledge of etiquette comes in handy sometimes. Friends know that I'm the one to ask if they have questions about what to give someone as a wedding gift, who to seat where at a dinner party, what to bring someone as a hostess gift – rules I know by heart but would otherwise take them time to research.
Whether I like it or not, I can't scrap these rules – my mother made sure of that. You simply don't show up at a dinner party full, disregard an invitation's RSVP, or let your kids ask, "Who is this?" when they answer the phone. My mother's words about the correct rules still parade in my head, their marching orders intact.
Besides, people appreciate manners, and I like getting questions about them. In fact, until a few years ago, I thought I knew all the answers.
But shortly after I got married, I learned I was wrong.
I discovered this while reading a magazine article on the etiquette of Christmas letters and realized I knew nothing about the subject. Our family had never created Christmas letters.
The article spelled out topics you should avoid at all costs. I was astonished. In fact, I was so immobilized by the list of dos and don'ts that I refrained from writing such letters, even though, when I first got married, I had wanted to start the tradition.
Instead, when my husband and I sent out cards, we wrote a short personal note on each of them the way my mother always had.
No way was I going to fumble through this new Christmas letter endeavor, risking my reputation. I was in unfamiliar territory, and everything I even thought about writing fit neatly into one of the article's "don't" categories.
At the top of the list was, "Don't brag." It sounded good, but what else would you say in a Christmas letter if you couldn't brag a little?
Would you report that Fern, despite the new spa treatments and a trip to Rio, is just not herself?
That Joey (who is all grown up now) is taking the bar exam for the third time with little hope of passing?
---