99 years of Elliott Carter's masterpieces in 5 days
Whether listening to an opera or a concerto, this composer inspires and intrigues.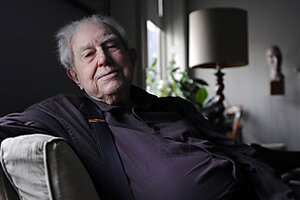 Newscom
Elliott Carter's music is a favorite of James Levine, the music director of the Boston Symphony Orchestra (BSO).
In the past, I have heard Mr. Levine respond to modest questioners asking about Mr. Carter's music or the other new music Levine might consider bringing to the BSO.
In response, Levine suggested that people should read the program notes, listen to the music, and, if it contains anything that interests you, listen to it again. If not, forget about it.
Listeners have been unable to forget Carter's music since the 1930s and his first big work, a ballet about Pocahontas, for the New York City Ballet. Since then, he has won two Pulitzer Prizes and has received all sorts of honors for music that leave people cold – or all fired up. That may be because his music often defies what is expected – sounding soulless to some and intensely human to others.
I'm not quite as old as Carter, who turned 100 in December and has written as much music after age 80 as before, but I decided to check out Levine's theory of how to listen to music at the five-day festival of Carter's music he organized last summer at Tanglewood music center in Lenox, Mass. [Editor's note: The original version misstated the year of Carter's 100th birthday.]
---