Cats among the ruins
Felines find a sanctuary set in the heart of ancient Roman temples.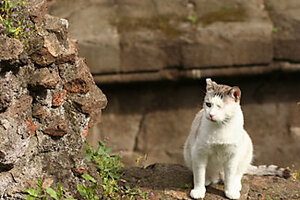 J. Almon Polk
Gazing into a huge, rectangular hole that contains four Roman temples, I'm searching for Nelson, the one-eyed king. I walk along the metal fence surrounding the archaeological dig, which is about the size of a soccer field. Somewhere among the crumbling stones 16 feet below street level, I hope to find the feline modern-day "ruler" of these ancient ruins.
Only a five-minute walk from the Pantheon, Area Sacra di Largo Argentina (an ancient Roman Square) rests at the heart of the Eternal City. Behind me, pedestrians bustle, vehicles rev, and mopeds blare. However, below me sprawls a world untrampled by humans. Wild grass grows under Italian umbrella pines, highlighting the travertine brick pavements. Stone steps ascend to the temples' roofless, pillared porticoes. Among them, a colony of cats is resting or playing in the sun.
My search for the felines began after seeing some calendars and postcards of Roman cats posing at the Coliseum, lounging near the colossal marble foot of Constantine, and napping atop a fallen Corinthian capital.
When Egypt became part of the Roman Empire, the cult of cat-headed goddess Bastet crossed the Mediterranean. Its worship became so popular, overshadowing the reverence of the emperor, that eventually an imperial decree banned all cats.
But some survived. The idea that a few of the descendants still live within the imperial ruins aroused my curiosity.
Thus I ended up at the largest cat colony in Rome, the Torre Argentina cat sanctuary, and to the story of Nelson.
At one corner of the ruins, I spot a one-eyed cat. He's perched on an old Roman wall. Near him, metal stairs lead down onto a small courtyard. A few cats saunter in the shade of blooming vines. The sanctuary occupies a cave, an excavated section of a temple buried under the bustling Via Florida.
---