An American Jew in Israel sees two sides to peace
He cautiously accepted an invitation to a Palestinian dinner.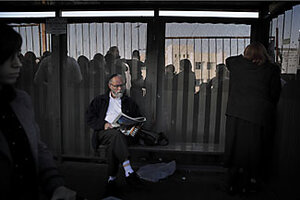 Peter Dejong/AP
Amit sat next to me on the bus. He and six other Israeli soldiers had just joined our group of 37 young American Jews for the last few days of our educational tour of Israel. Our guide called this our , or encounter – our chance to know Israelis, and vice versa. Amit impressed me immediately with his easy carriage, bright perceptive eyes, and kind face. Of the seven soldiers, only he had seen recent combat in Gaza.
Out the bus windows the sun melted into sunset over the expansive Negev desert. I asked him about Gaza. He described how, not two weeks earlier, he marched across the heart of the Strip, coming within 400 meters of the sea. He described a woman running from a building with a child strapped to her front so she could get as close as possible to his comrades before blowing up herself and her child.
"Did you kill anyone?" I asked.
"Yes," he said, and paused, "But it's not like I looked them in the face. We were all ... shooting."
The first stars appeared outside.
"How has that – killing – affected you?" I asked.
"I can't sleep. I keep waking up all night. When I close my eyes I see things. It's terrible. No one wants killing. No one wants war."
We let it rest. He pulled out his MP3 player and shared Israeli pop with me, each of us listening out of one earpiece.
---