A familiar face in an unfamiliar place
She knew she had seen him before. But where?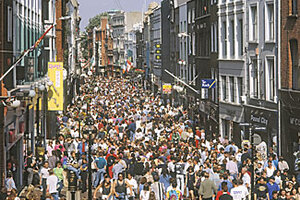 NEWSCOM
We weren't moving to Scotland but to Ireland, a mere half-inch away on the map. As a 13-year-old Jewish girl in suburban Cleveland who'd swooned over "Brigadoon," I was disappointed – until I learned that Ireland, like Scotland, had tartans and mists. I was also happy to learn that it was nicknamed "The Emerald Isle," which gave it a connection to my birthstone. Then, things started looking up.
After our family had moved from New York to Florida to Cleveland, people began to assume that my father was in the military. Actually, Dad wove in and out of encyclopedia sales management and free-spirited entrepreneurialism – his true vocation. Ireland would be our first overseas move and the first without my older brother, who would be starting college in Oregon.
---