From homeless to actress
A theater class helps marginalized women reclaim their lives.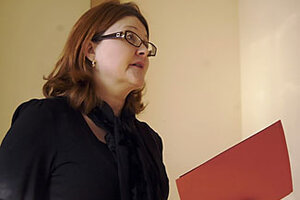 Joanne Ciccarello/Staff
"Squirrels," said Vanity Reyes, a young woman wearing a New York Yankees cap and sweats, with a confident tilt of her chin.
"Vendors," shot back Claire, an older woman with pressed black pants and perfect makeup, who asked that her last name not be used.
With lightning speed, the improv partners parlayed back and forth everything one could spot in the Boston Common, a mile from the church where they were practicing. The exercise ended abruptly when Claire missed a beat – though she stole the show with a conciliatory fall to the floor.
It's hard to imagine that any of the gregarious, outspoken members of Girl Talk Theatre ever felt invisible. Yet that's precisely the feeling that being homeless, or struggling with an addiction, unemployment, domestic abuse, or other trauma can lead to, these women say. But while varying hardships may have led them to join Girl Talk, a Boston-based nonprofit theater troupe dedicated to sharing their stories, performing has only been empowering. Speaking their minds on everything from public policies to prejudice has transformed their lives – and challenged their audiences to reject stereotypes regarding the disenfranchised.
"Homelessness is not just being without a home. It changed me from head to toe," says Claire, who is no longer homeless. "Being able to go out and tell your story and have someone listen for a change without judging you – I've found 95 percent of who I was."
Claire met Girl Talk Theatre founder Stephanie Cotton-Snell in 2007, when Girl Talk was offering a new theater class at Rosie's Place, a Boston women's shelter.
---