No limits at this Laotian library
In Laos's oldest city, a learning project offers students free access to books, computers, and lessons in a variety of topics.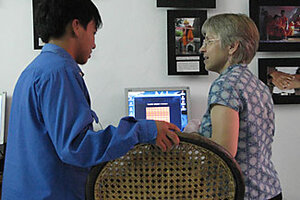 DAWN Starin
Luang Prabang, a UNESCO World Heritage Site in the north-central part of Laos, has often been described as a gentle backwater, an oasis of peace and tranquillity, a real-life Shangri-La lost in time and space.
But in the center of Luang Prabang, not far from the banks of the mighty Mekong, is a revolutionary learning experiment – @ My Library (www.thelanguageproject.org). This small program has big hopes and aspirations for the many students who walk through its doors.
On the ground floor, two novice monks wrapped in orange robes sit at computer terminals practicing English. A high school student sits before another terminal playing Scrabble. Upstairs, one young man reads a science book, another reads a history book, and a third is engrossed in a novel.
Students who normally have no access to quiet places for concentration have found a quiet oasis where they can read and learn in silence..
Laotian folk tales and books on art and history are very popular, as are a variety of Hmong language books. Dictionaries, novels, and nonfiction round out the collection. The library contains about 1,200 books, all carefully selected to be appropriate for the users in terms of reading level, subject, and language.
This may not be a huge library, but it is one of the best in the country – 85 percent of the books can't be found anywhere else in Laos.
Students are able to check out volumes free for two weeks. Currently, about 1,000 books a month are borrowed, and almost all are brought back on time.
Artistic endeavours are also taken seriously @ My Library. Volunteers have given photography classes using donated cameras that can be borrowed, sending Lao, Hmong, and Khmu students out to snap photos of people and places, creating a record of today's Laos.
On a large table in the back of a sunshine-filled room, Touy Thavixay, a first-year university student, looks through his portfolio. Imaginative prints of elephants and Laotian faces and landscapes spill across the table.
---