A photographer's evolution
After years of capturing news, a former photojournalist relishes the freedom to manipulate the image.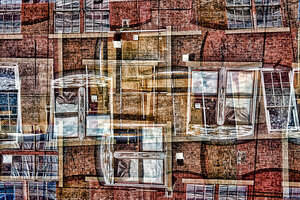 John Nordell
Three years ago, after two plus decades working as a photojournalist, I joined the ranks of photography teachers. With no editors handing me assignments I wondered, "What am I going to photograph?" However, after a few months of working with enthusiastic students, creative colleagues, and visiting artists, the question became, "How am I going to photograph?"
Even the shift in question highlights the evolution of my process. Clear rules mark the photojournalist's trade: Do not alter a scene to deceive your readers, do not manipulate subjects, and come back with objective goods. Thus no question aside from "what" to photograph initially occurred to me.
Easing into the "how," I took baby steps. Intentionally shaking the camera during an exposure to create an impressionistic effect, or zooming the lens with the shutter open to create unnatural blurs.
One day, photographing the shadow of a stop sign on a wall, I moved a plant out of the way to make a clean composition. I reported this radical act to my wife. Emboldened by such creative freedom, I made a footprint trail, adding human narrative to a snow scene, and removed the lens and shot through a water bottle instead.
Two years ago, on a field trip to the Williams College Museum of Art in Williamstown, Mass., a student and I looked at "Mill in Autumn," by the German Modernist painter Lyonel Feininger. We noted the Cubist style in which Feininger depicted the mill, the multiple planes giving complex form to the building. We debated how to create such a look photographically.
---