Bilingual from the first baby babblings
In Budapest, a Hungarian father and an American mother raise their two young daughters in a bilingual household.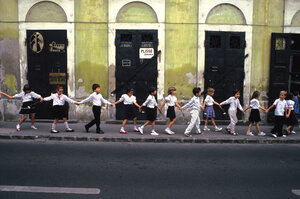 Newscom
Life in our bilingual household must look unintelligible to outsiders, but to us it's perfectly coherent. I am an American who speaks mediocre Hungarian, my husband is a Hungarian who speaks English like a native, and we live in Budapest where we are raising our two little girls to be bilingual.
Anna, age 4, is a chatterbox who speaks both languages fluently and proudly. Among her huge collection of teddy bears, some speak English, some speak Hungarian, and some speak "bear talk." She translates between them, and they all seem happy.
Roza, 2, is beginning to make complete sentences in her two mother tongues. So far, both girls have picked up both languages effortlessly. Our strategy is simple: My husband speaks to them strictly in Hungarian, and I speak in English. When we are together, conversations are a jumble of Hungarian and English. Technically, this technique is termed the "one parent, one language" philosophy. To us, it just evolved naturally.
I am in awe (and a bit envious) of the way they have adopted two languages, and even slightly different identities. Because they think in two languages – and cultures – they perceive language and the world entirely differently than I did as a child. Their exposure to Hungarian far outweighs their exposure to English. They go to Hungarian schools, hear Hungarian spoken in public, and play with their cousins in Hungarian. I am their main exposure to English. To balance that, we use Skype for video calls to the United States, we are avid readers, and we take an annual long American vacation. During our last trip, Anna had become so absorbed in English that she refused to speak in Hungarian to her father on the phone. He talked; she silently listened.
---