Thwack of the wood baseball bat ushers in spring
Baseball's sounds are as evocative of the season as warbling cranes and trilling tree frogs.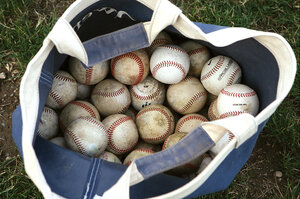 Melanie Stetson Freeman/Staff
Aside from the warbling of sand-hill cranes and the trilling chorus of tree frogs from a cypress bog up the road, nothing speaks so convincingly to me of spring than the thwack of a bat against a ball. Stepping out to collect the mail last week, I heard the first solid hit of the season from the diamond on the rural schoolyard across the road, and thick sweater notwithstanding, I felt the seasonal shift to be complete here in south central Indiana.
I played baseball on an almost daily basis as a child and still know how to swing into and connect with a pitch. I have always, always owned a mitt. Small wonder that I relish having an active playing field so close to home. During years of dairy farming I'd keep an ear to the action from across the road as the cows filed in and out of the screened parlor for evening milking. When a good base hit interrupted the rhythm of the vacuum pump, I didn't just hear it, it seemed to resonate through my already occupied arms. The one thing more satisfying than the sound of a good hit is how it feels when you make it.
I might have made an early career of baseball had Little League been open to girls in the 1960s. But it was not until the next decade that a lawsuit on behalf of Maria Pepe of Hoboken, N.J., successfully challenged the boys-only institution to add a program specifically for us. In lieu of more formal opportunities, I joined my male peers in after-dinner sandlot games, where I was both welcomed and fully competitive. I cherish the memory of an overheard remark from one dad to another: "She looks like she's not even gonna swing – then wham, at the last second she sends it winging past the third baseman." I would not have traded that commentary for a jeweled tiara.
---