Christo and the art of the moment
Christo taught her how to appreciate the enduring qualities of the ephemeral.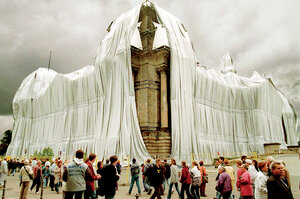 Newscom
Thank you, Christo. You helped me get over two big regrets in life.
Christo is the "wrapper" artist. He and his late wife, Jeanne-Claude, surrounded islands in Miami's Biscayne Bay with floating pink polypropylene and sheathed the Reichstag, the seat of the German parliament in Berlin, in a shimmering silver fabric.
Christo's work unexpectedly crossed my path in September 1985. Or rather, I crossed its path. I had traveled with my boyfriend, Mark, to visit relatives in Germany. A detour to Paris seemed like a grand idea. While there, we happened upon the wrapped Pont Neuf, a bridge covered from lamppost to footing in folds of camel-colored cloth.
I had never heard of Christo, but it was love at first sight. We loved his artwork for its size, grace, and color. How could something so big and solid as a stone bridge appear so soft? We loved the wrapping for its visual setting and its serendipity. And just like Mary Poppins, who jumped into Bert's sidewalk painting, we could literally step into this art.
Fast forward to February 1995. Christo gets permission to wrap the Reichstag in Berlin. By this time, Mark and I are married and live in California – our next landing place after working as journalists in Germany.
---