Shadowing the 'big boys' in Zimbabwe
Immigrants and locals in Zimbabwe are eager to understand what is foreign.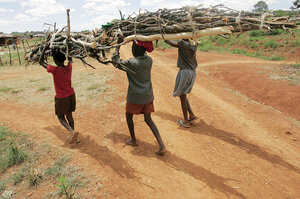 Philimon Bulawayo/Reuters/File
Mai Agnes was apologetic. "You know those boys?" she asked me. "They want to do some work."
For a moment, I was taken aback.
Khumbulani and Kudakwashe, both age 11, were spending part of the school holiday with their aunt, Mai Agnes, who helps with my housework. The boys live a two-hour bus drive away in Zimbabwe's mountainous Nyanga district.
My son was ecstatic when they came to see him. Sam had just spent several days making a den with Fadzai and Audrey, girls only a little older than his 6 years. Finally, here were "big boys" for him to shadow.
He could hardly understand their Shona. Kudakwashe and Khumbulani (also known as Knowledge) spoke a rural dialect of Zimbabwe's main ethnic language. But, said Sam: "They have big smiles."
"In Nyanga, they are always busy," Mai Agnes told me. "They get up early. They go into the mountains to collect firewood. They collect water from the river."
Her eyes searched mine for understanding. She did not want to hurt my feelings.
She continued: "Sometimes they catch the bus to Sakubva so they can take the maize meal for grinding. Now they are telling me: 'We cannot just sit.' "
"Can they sweep the yard?" she asked.
I wanted those boys to have fun. Soon after they arrived, I realized that they loved to make things. So I wheeled a trolley of LEGO bricks out onto the verandah and marvelled dutifully at the airplanes, cars, and bunkers fashioned daily near my frangipani bush.
I dusted off a yellow soccer ball, pulled out ancient National Geographic magazines, and plied the boys (Sam included) with ginger cookies and the small bars of fudge that recently had appeared in Zimbabwe's not-so-long-ago-denuded supermarkets.
Had I failed to give them a good time?
"Can they, please?" Mai Agnes persisted. The decision was hers, I told her.
---