A deep northern quiet in Norway
Norway's treasured fiords provided a place for contemplation.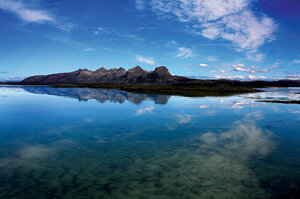 Bill Glucroft
Two trains and 600 miles north of Oslo, at a latitude higher than Iceland, Hudson Bay, and Anchorage, Alaska, lies the municipality of Leirfjord, an expanse of natural delight along Norway's Helgeland coast with a population density of 11 per square mile.
Leaving from Berlin, it was the longest I'd ever traveled to get somewhere. It was also the farthest north I'd ever been, and still there was as much lanky landmass ahead of us as there was behind.
We were north enough, however. Midnight sun was over, but even in summer's waning days a murky blue reigned over the big sky till morning. The lingering twilight allowed plenty of time to explore the dramatic landscape, exaggerated by the warm hues and long shadows. Norway's treasures – the fiords, descendants of millions of years and more than a few ice ages – filled every view.
---