My adventures in Irish
Stumped by the Irish language's complexity, a new learner dips into its history and her own.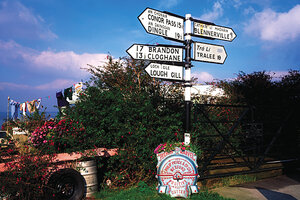 Newscom
Last summer I worked at a Dublin-based magazine. As a lowly intern, one of my jobs was covering the front desk when the receptionist went to lunch. It wasn't bad. I listened to the radio, read the news, and signed for mail. The only trying task, actually, was answering the phone.
All I had to do was transfer the call or take down a message. The problem: Through a muffled phone, the brogue does not sound like English. And once deciphered, Irish names are not easy to spell. A few particularly challenging ones: Aoife (EE-fa), Niamh (NEEV), Saoirse (SEER-sha), Eoin (OH-in), Cillian (Kill-EE-ann). Once, I had to ask a caller to repeat his name four times before I realized he'd been saying "Thomas."
In person, the Irish English accent isn't nearly as hard to understand as on the phone. Unless, that is, it's not English at all.
Though only a tiny percentage of people – most of them in the very rural south or west – speaks Irish fluently and regularly, it is the country's first official language. Every road sign reads first in Irish, then English, as does all public text: city bus timetables, statues, and museum exhibit descriptions. All primary school students take daily Irish lessons.
At first, I thought it odd that the government puts so much effort into a language no one speaks anyway. Then I learned its history.
The Irish language hasn't always been a mainstay. In the late 19th century, it had become almost obsolete, a cause for persecution under British rule. But after an early 20th-century cultural nationalism movement, the language became a source of motivation, a savior, to politically disenchanted citizens. It became a catalyst for freedom.
On Thursday nights, just one hour for six weeks, I took an Irish language class.
Right away it became clear that, despite my adorably enthusiastic instructor, I'd never grasp more than very basic phrases, nor use what I learned in the real world. Still, it was interesting, romantic even, to study the language my ancestors spoke.
As in English, Irish words often do not sound the way they're spelled. There are at least two or three pronunciations for almost every word, depending on the dialect. I won't start with the language's complicated grammatical meanderings. Here are some basics:
Nora is ainm dom. That means, "Nora is my name" (pronounced "Nora es anyum dum").
---