An outsider dips into an aristocratic world
But the boundaries are clearly drawn.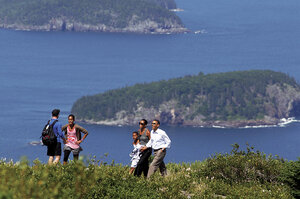 Jim Young/Reuters/File
Strange that Barack Obama and I, two rootless cosmopolitans, should be attracted to Bar Harbor, Maine, the historic home of Society's 400.
I was surprised when the former community organizer went there to bike on roads created by John D. Rockefeller Jr. Of all the places he could have picked, he chose a vacation whizzing around the edges of the old establishment. I wondered what the appeal was for this man who is an outsider even in the White House.
Reading about President Obama's trip revived my early infatuation with America's aristocracy. As an 8-year-old I studied a book about table settings for my fantasy black-tie dinners while living in a house with rugs full of holes. On drives in my father's dented car, I asked to be taken past mansions so I could peer in windows at worlds better than mine, or at least more beautiful. Then and now, it was an aesthetic attraction to the upper class, not a hankering after their money or status. I do envy their air of entitlement and assurance, the absence of which keeps someone like me feeling alien even when passing socially.
---