The kindness of strangers
Even as the government of Zimbabwe trumpets hostility to whites, a foreign resident of the country recalls how well she has been treated by locals.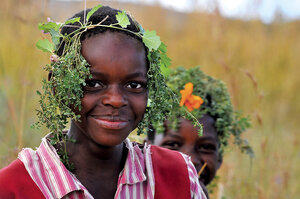 Alexander Joe/Newscom/File
"We've been watching you," says the man leaning out of the window of the black Mercedes.
"I've run out of fuel," I say, brandishing my jerrycan. Fuel shortages have hit this eastern part of Zimbabwe again. I have just run – as best one can run in worn-down wedge heels – to the nearest garage. Only to find the pumps are empty.
My child needs to be picked up at a bus stop 2-1/2 miles away. I have no airtime on my pay-as-you-go cellphone. The midday sun is unbearably hot.
"Get in," he says. "We'll take you to a garage that has fuel."
I can see two more men inside the car. Everything my mother told me screams no. Never get into a car with strangers. Yet I believe I can read good intentions on these faces. So I make a snap decision, and climb in.
Let me say straightaway that this isn't something I'd advise anywhere in the world. I certainly would not encourage a daughter of mine to do this, even if she is now nearer 40 than 30. In my defense, hitchhiking is a way of life in Zimbabwe, where public transport is unreliable, expensive, and often targeted by inspectors looking for a bribe. Every morning, scores of men and women in suits and tailored dresses thumb lifts into Zimbabwe's central business districts. Proportionally, criminal attacks are rare.
The driver clicks down the central locking. But the windows remain wide-open. I could shout for help if I really needed to. I chatter worriedly about having miscalculated how far $5 of fuel would take me.
---