How I became famous
Mistaken for some character actor, I played along – curious as to who I was meant to be.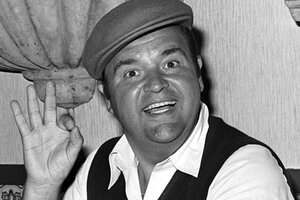 AFP/Newscom/File
Brentwood has gotten to be one of the most expensive neighborhoods in Los Angeles. Rolls-Royces are so common along San Vicente Boulevard that nobody glances. Celebrities are an everyday sighting.
I worked hard to keep up with the rising cost of living on the Westside. I kept gaining weight because I spent so many hours at my computer. At some point I noticed that people were staring at me, often giving me those double takes. The box boys at the supermarket spoke to me with respect – and when you get respect from a box boy, he must think you're really important. People were mistaking me for somebody else. But who? There weren't that many possibilities. It had to be somebody who weighed close to 300 pounds and wore a full beard.
I enjoyed the way people would suddenly turn to look at me as if I wore wings. Nobody mentioned my name, but naturally they assumed I knew who I was. I could hardly ask, "By the way, who am I?" Nobody asked for my autograph. That might have enabled me to learn my name. Of course, I could have simply confessed that I wasn't who they thought I was, but I wouldn't have wanted to disappoint them. Besides, I was afraid of being taken for an imposter and treated with appropriate contempt.
As a result of being in the public eye, I began to dress better. I wore slacks and a blazer. I kept my shoes shined. I changed shirts every day. I had my hair cut and my beard trimmed every other week. After all, there is such a thing as noblesse oblige.
The more I changed, the more second looks I received. From en­joying the attention, I began to crave it. I was only getting my just deserts. I'd always felt I was somebody special. Don't we all? Now others were finally realizing it.
How do all those other people get to be celebrities? Somebody once said that a celebrity is a person who is famous for being famous. Maybe it's possible to become a celebrity just by acting like one.
---