The making of families
On an island in Micronesia, a foreigner discovers a unique way to tackle loneliness.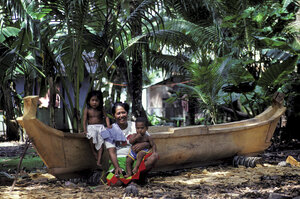 Tony Berg/Newscom/File
When I first arrived as an independent volunteer in Chuuk, I didn't know anyone. It was a small island, by my estimation about the circumference of a potted plant, so my loneliness seemed unwarranted. Yet here I was, drowning in heat and standing with my luggage, staring out over a hill that spilled over into the wide-mouthed lagoon below, feeling like the last woman in the world.
I had come here to teach and to somehow put my anthropology degree to use. Although I was surrounded by people, I felt like an outsider, and not just because I was foreign. Homesickness was pulsating through my body, and I challenged myself to keep busy so as not to let it eat me alive. Where was my family? About 10,000 miles away, on the other side of the globe.
I figured I would have some company. Xavier high school is a boarding school that houses students from all over the region of Micronesia. Boys live on campus and girls live in the villages below with host families. As difficult as it was for me to leave my family, I couldn't imagine the struggle for some of these students, especially the ones from more remote islands who had never been away from home. I knew immediately we would have some common ground. We would be strangers together, we would miss our families together, and together we would keep each other company.
I tried as best I could to learn their names quickly so we could be more familiar with each other, but I learned that names were not always needed. A week into teaching, I noticed a strange phenomenon in my classroom: students calling each other as though they were family – mommy, daddy, sister, grandma. They'd write it on notes to each other, and leave messages on the blackboard before class: "Juz droppin' a msg to my mama Lyz!" "Luv ya daughter! MUAH!"
As an English and literature teacher, this made me cringe, but at the same time, it piqued my anthropological interests.
---