Cowboy culture in suburban Bavaria: 'Wilkommen pardner!'
In suburban Bavaria, cowboy culture is greeted with a howdy -- and a German twist.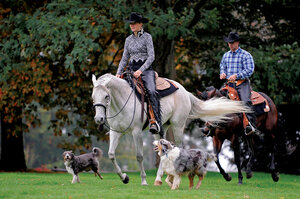 Martin Meissner/AP
The most successful American export of all time is not a product or even a tangible object. It is, rather, a concept, an idea – an image that has become firmly entrenched in the global psyche.
To hundreds of millions of people across the planet, when you say "American" you are really saying "cowboy."
The American West and the cowboys who rode its ranges are such enduring icons of this country that they eclipse all other contenders. Just about everyone, everywhere, has an ongoing love affair with the idea of the lone cowpoke on horseback, a fellow as tough as saddle leather but as kindly as the schoolmarm he vows to protect.
In many places around the world the fascination with cowboys and the American West reveals itself in music. I have heard home-grown country bands from Austria to Australia, and all have been terrific. Indeed, one of the most popular musical groups in Nagoya, Japan, is Cussy & The Aus City Limits, a local bunch that performs with such skill and enthusiasm that I once told pedal steel guitar player Hideo "Buddy" Hebisawa that he should be playing in Nashville, Tenn. He laughed heartily at that, but then he assumed a serious mien and bowed his thanks for the compliment.
---