A hopeless romantic meets her match
Touring Greece's antiquities, a traveler comes face to face with the temples of the ancient gods – and her childhood dreams.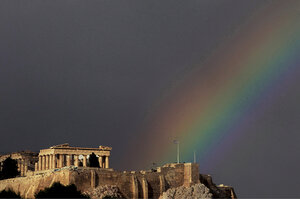 John Kolesidis/Reuters
As a child, on windy nights I'd fantasize that my bedroom could disengage from our home. Like a caterpillar giddy for transformation, it would emerge as a sublime sailing ship, float with the vagabond clouds, then drift down to worlds of long ago.
I would step off the ship onto the bronze earth. Greeting me were Greek gods and goddesses – Poseidon, Athena, Apollo, and the others – smiling gently from ivory faces. My life would be adorned by their radiance, their jealousies would captivate me, and my parents would be proud I'd found such famous companions.
After a social studies unit in fourth grade on Greek mythology, anything even remotely connected to ancient Greece was irresistible. It was more thrilling, by far, than a party or a snow day off school in my Indiana hometown.
In high school, I wondered if continuing such unabashed romanticism about antiquity might prove a liability, as most of my egghead friends had a proclivity for the sardonic. Then I discovered books by poets and scholars exalting the romantic melancholy of ancient ruins. If such notables shared my passion, then I knew my infatuation must be legitimate.
One lackluster day, as I looked through routine snail mail, I found a beautiful catalog with a cover photo of an ancient Greek temple soaring above the sea. It was from a newly launched cruise line, Voyages to Antiquity. Instantly, those three words transported me to my childhood reveries.
All the ancient civilizations I'd longed to visit were in that catalog, encompassed in 25 journeys – aboard a sleek white vessel, the Aegean Odyssey.
It looked like a reincarnation of the ship in my childhood dreams. But this one sailed farther: through the entire Mediterranean world and into the Aegean, Ionian, Adriatic, and Black seas – to Byzantine Turkey, Renaissance Italy, Pharaonic Egypt, Classical Greece, even exotic ports of Asia.
---