My Russian
On a snowy night near Tolstoy's house, a tongue-tied American tries to summon the courage to converse.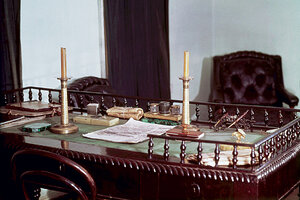 AP/File
Scene: Dead of winter, present day; Yasnaya Polyana, Russia; the hotel beside Leo Tolstoy's estate.
Characters: the author, a middle-aged American obsessed with Russian literature; a van-driving Russian; a slew of Russian actors.
I was exhausted by travel and dispirited by a tongue-tied showing at my Russian lesson with Yuliya that morning; my deep shyness had kicked in and I wanted to escape into sleep but couldn't. From my fourth-floor hotel windows, I couldn't help noticing that floodlights had lit up the surrounding snowbanked trees and outbuildings as bright as day. There were work vans parked helter-skelter and men carrying ladders; I heard several ringing imperious voices.
I got dressed and walked down the dark hallway toward the staircase and elevators. Across from the alcove, out of the conference room bounded a young woman with a springy step and a blossoming dress. After her came a young man in a gray officer's coat and long cloak, peaked cap, and black boots.
I greeted them in the automatic Russian hello: "Zdravstvuite!"
They nodded, the man replied something, and they disappeared down the hallway into rooms opposite each other. From within the conference room I heard women's voices and rustling clothes and the shuffling of shoes and boots. I peeked in: racks of clothes – dresses, coats, uniforms.
Puzzled, I backed away and took the stairs.
Most of us love those movies where characters walk from one room into another and find themselves in an earlier era. In the lobby were a couple of dozen billowy-bloused peasants, pink-cheeked soldiers, nurses in gray capes, and goateed doctors sitting and standing around. Through the lobby's glass doors I could see several costumed roustabouts smoking cigarettes on the front steps. It was snowing.
---