Two sisters, two wildernesses
For one, the charm is in the microscopic; the other scans for bears.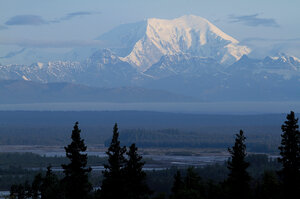 Dan Joling/AP
We don't know where we're going, and we don't know how we are getting there.
This truth becomes ever more apparent as my sister Britta and I bushwhack through tangles of willow. We gouge our shins on immovable limbs, get clipped in the head by big branches, snag our packs on twigs. We have long extolled the virtues of the trail-less wilderness backcountry system of Alaska's Denali National Park: You are assigned a unit and can camp anywhere, as long as you are a half mile from the single park road and out of sight of the tourists peering from buses. Now, as the willow shrubs tower above our heads, the system seems a tiny bit less ideal. What a wonderful thing is a path! What a lovely idea, to have a preordained campsite!
It takes some persistence, but we muscle our way through the willows and stand on shaking legs on the other side, wheezing like animals.
I lift binoculars to my eyes and scan the riverbed below us, then pan up to the low green hills that flank the snowy ridges that extend from the backbone of the Alaska Range. I pretend to search for a campsite, but Britta knows better.
"Anything?" she asks with a pretense of concern. I press my lips together, give a terse shake of my head.
When in the backcountry, and perhaps in life in general, Britta and I fall into distinct roles, as befits our statuses as youngest and eldest siblings. She is laid back and phlegmatic; I am edgy and nervous. She is optimistic, whereas I tend to imagine worst-case scenarios. This is demonstrated by our respective bear shouts. She lowers her voice to a tenor growl and hollers, "Hey, bear!" I imagine not one but many bears and yell, "Hey, bears!"
---