A witness in Galilee
The author hikes the 'Jesus Trail' and finds insight and resolve.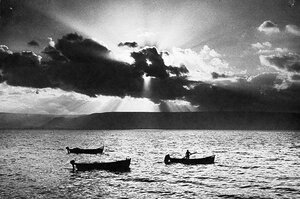 Gordon N. Converse/The Christian Science Monitor
In Jerusalem, where the conflict between Jews and Muslims dominates everything from religion to politics, it can sometimes feel as if Jesus of Nazareth and all that he stood for has been forgotten here – or at least cast aside.
Christians today make up only 2 percent of Jerusalem's population, and despite Jesus' connection to this land and many of its sites, there is little mention of the man whose ministry inspired the world's largest religion. Even when referring to his followers, Israeli Jews emphasize geography rather than good works. In Hebrew, Christians are notzrit – someone from Nazareth.
So when I heard that a young Israeli and his American hiking buddy had audaciously named a walking route the Jesus Trail, I set off for the fields of Galilee with a backpack and a Bible.
I had no illusions that roving through the pastoral landscape where Jesus led his little flock would make me more of a Christian, but I did want to peek into his classroom.
Like others weaned on the Word in far-off Sunday schools, I was familiar with the names – Nazareth, Cana, Capernaum. While I have long cherished the ideas Jesus imparted, it wasn't until I came here that I appreciated more fully the context in which he carried out his three-year ministry – and how much compassion, forgiveness, and courage it must have required.
When Jesus "went up into a mountain" to deliver the sermon that is now the cornerstone of Christianity, some say he came to the Horns of Hittin.
---