I have shoes for any occasion
Riot gear for Africa? Rhinestone cowboy wear? Yep, and more.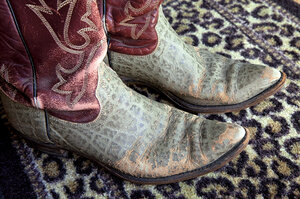 Photo illustration by Melanie Stetson Freeman/Staff
Everyone staying at the Kinshasa hotel in the spring of 1997 was, like me, a reporter covering the crumbling of Mobutu Sese Seko's reign. Everyone except a chatty but mysterious American who greeted waitresses at breakfast with "Bahn joor, baby." His accent was so bad, I was convinced it masked a Parisian fluency deployed during shady diamond dealings, or when he reported back to Mr. Mobutu's henchmen about what the foreign reporters were saying about the dictator of what was then known as Zaire (now Congo).
One afternoon, my colleagues and I stood in the lobby, discussing a protest that had gotten out of hand and ended with several journalists being robbed of even their shoes. The suspected diamond dealer glanced at my still-shod feet and pronounced that my black high-tops would be safe to wear to the next riot, because no one would want to steal Chucks.
Let Proust have his madeleines. I have my shoes.
I can be forgiven for trying to make my shoe habit seem intellectual, or at least cool. I take plenty of teasing about it at home. My 9-year-old daughter hides shoe catalogs from me. She feigns fear I'll spend her inheritance at the shoe shop. Hoping to shame me into restraint, she'll tell anyone who will listen: "Mommy has a lot of shoes." Most listeners probably think that means a closet full of Christian Louboutin heels. They'd be disappointed. I own nary a red sole. My tastes tend more to those high-tops, and not just in riot-ready basic black.
I sometimes need to be fast on my feet; I always need to be color coordinated.
You need only peek in my mom's closet to see that I come honestly by my shoe mania. She has a lifetime collection stacked in towers of the original boxes. Her tastes run to classic pumps and high heels. But when a young co-worker once came to her, in near tears because her own mother was insisting she buy a pair of heels – her first – for her wedding, my mom counseled her to stick with her favorite tennis shoes, perhaps with lacy ties for the occasion.
After Converse, the most represented brand in my shoe closet is Goodyear. I have several sandals fashioned from old tires, and every time I stretch on a pair I'm reminded of the inventiveness of recyclers in the developing world.
---