Surprising echoes of Bhutan in Texas
The style of buildings in the Himalayan kingdom was transported to El Paso.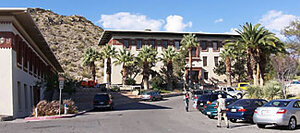 Photo by Sal Laterra
They're a curiosity on an American campus – the Asian-style buildings with sloping walls, wide red friezes, and overhanging roofs at the University of Texas at El Paso (UTEP). They seem almost to lean against the Franklin Mountain foothills.
Anyone seeing them for the first time could be forgiven for seeming puzzled: How did they get there? And why?
The central character in the story that provides the answers is Kathleen Worrell, an academic's wife who liked reading and traveling and writing about her travels.
Although she had never been to the Far East, she had visited Mexico and much of North America.
Her husband, Stephen, was the first dean of the Texas State School of Mines and Metallurgy near Fort Bliss.
On Oct. 29, 1916, when the dean was away on a business trip, a fire broke out in the college's administration building.
By the time it was extinguished, virtually nothing was left of the structure. The school's chemistry lab, mineral collections, and records had all been destroyed.
Although two other buildings were left, the heart of the school was gone and, clearly, had to be replaced.
A rebuilding project
Within two months, a 23-acre rocky site nine miles away in El Paso had been donated. But what was the new school to look like?
---