Poverty tours travel a fine line
Does peeking at how the other five-sixths lives preserve culture – or commodify it?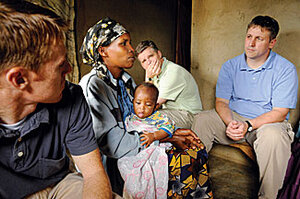 Mary Knox Merrill/Staff
Jeanne d'Arc Mukamurigo and her daughter sit on a bench in the shade of a tree, twisting stiff, skinny threads of red bamboo into place mats. Weaving isn't something she grew up doing, and place mats aren't particularly Rwandan, but she spends a few days a week turning finicky threads into things white people will buy when they visit this village, about an hour's drive south of Rwanda's capital, Kigali.
Ms. Mukamurigo is a member of Imirasire, a collective of women taught to weave baskets, place mats, and coasters and sell them to tourists. Tourists are new to Mayange, where 25,000 people live in an arid part of Rwanda.
As Mukamurigo and her daughter finish off their latest creation, an SUV pulls up near their bench. Four mzungu, the local term for white people, shuffle out and watch silently as she curls the bamboo into a cable.
One mzungu lingers, while the others peruse wares on sale, to ask Mukamurigo about her work. She answers questions politely, and then says in a playful near-whisper, her low voice a sign of respect, "Stop talking to me and go buy something."
Tour operators raised their eyebrows at the story later, wondering haltingly if the gentle nudge was offensive. At the same time, they say they hope contact with tourists inspires further entrepreneurial thinking among the residents of Mayange, a village that has, until recently, been consigned by its geography and history to destitution. In 2005, the United Nations effectively adopted Mayange, selecting it as one of 80 model villages across Africa, where strategies intended to cut poverty in half by 2015 are being tested.
---