Volunteering at Yosemite is a natural
Visitors who fall in love with the park may return to help preserve it for all.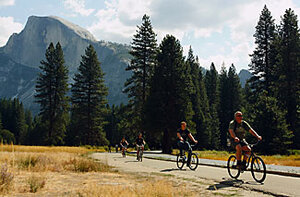 MCT/ Newscom
Yosemite National Park, Calif.
A calmness spreads across Yosemite National Park. It's an hour before the sun will begin to peek over the famed 3,000-foot monolith El Capitan and warm the wings of butterflies. Nocturnal animals, such as mountain lions, coyotes, bobcats, and foxes, have begun to burrow in for the long day. Bears make their own hours.
Behind the scenes, a special group of people is also preparing to greet the day. It takes a host of people working together to ensure that Yosemite remains in good shape for the host of native plants and animals that call it home.
Approximately 10,000 volunteers signed up to work in the park during 2008, says Heather Boothe, Yosemite's volunteer program manager for the National Park Service. Their donated hours – 155,500 – equaled the efforts of 75 full-time employees working year-round. That's especially important in a time of reduced budgets.
"Volunteers are the future of the park system," she says. "They become stewards who share their experiences with others in their community."
They spend as little as a half day or as much as 30 hours a week tackling jobs as diverse as restoring a riverbank, serving as archaeology field assistants, and guiding tours. In their spare time, they enjoy the beauty and grandeur of the park.
Paula McNerney of South Dakota first visited Yosemite in 1992 when she tackled the top of Half Dome, an all-day hike listed as extremely strenuous. "I fell in love with the park's grandeur and diversity," she says.
---