Volunteers get wild in Alaska
Vacationing volunteers leave the beaten path for a hands-on experience in coastal studies.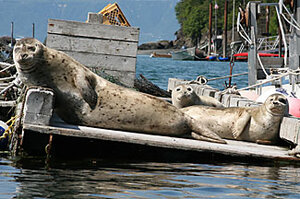 Lyda S. Harris
A sea otter glides by, its sinewy tail gently snaking through the water a stone's throw from the floating dock where I'm eating a PB&J sandwich. Taking a break from preening its belly fur, it looks at me with baby-doll eyes, sizing me or my sandwich up. I realize that otters are much cuter in real life than in photos. Deciding that grooming is more interesting than my snack, the otter resumes combing thick fur with its teeth and dainty paws.
This moment is why I've traveled to the Center for Alaskan Coastal Studies' (CACS) Peterson Bay Coastal Field Station on the Kenai Peninsula to see wildlife and aid in its conservation.
"Volunteers usually spend two days with us," says Beth Trowbridge, acting executive director. On the first day, I participate in field-oriented educational programs, oohing and aahing over animals that live in the bay's shallows and exploring the upland spruce forest that contains insect-eating bog plants and a pond stuffed with waterlilies.
CACS believes that if people have a personal experience with, say, a sea cucumber creeping across their palms, they're much more likely to make decisions that preserve the invertebrate's tide pool habitat than if they just see a picture of the caterpillarlike creature in a magazine.
---