Discover good food in Buenos Aires
Want to discover the heart of Buenos Aires? Eat like a local. There's good food everywhere.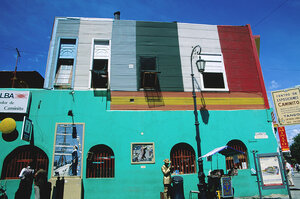 Jane Sweeney/Lonely Planet/Newscom/File
Writer and poet Jorge Luis Borges praised his birth city in essays and poems. Since 2010 is the bicentennial of the city, it seems fitting to remember "The Mythical Founding of Buenos Aires." The last stanza is quoted often:
Hard to believe Buenos Aires had any beginning
I feel it to be as eternal as air and water.
It's hard to imagine Buenos Aires in the early years, when the area was covered by fields and crossed by creeks. Besides the enormous wealth generated from the fertile soil, the advent of railroads raised economic power. Prosperity drew wave after wave of immigrants from Europe. Buenos Aires soon became a city that rivaled major world capitals.
Today its 48 barrios are a collage of Old World architecture, heavily influenced by France and Spain. Every block is tightly packed – grandiose buildings share space with compact grocery stores. Cheese shops are as prolific as store windows displaying tango stilettos. You can't toss a French roll without hitting a bakery.
Despite their dress-to-the-nines-before-noon style, porteños (those who live here) are remarkably informal. Outgoing, too, and friendly to foreign visitors, especially those who try their hand at Spanish. A casual street-corner chat with a local might end up in a cafe, trading political views over espresso.
Most of the cafes are classic; all are crowded. Coffee and conversation are integral to the city's social life.
---