Indian Food: Vada Pav, Mumbai's chutney-slathered vegetarian food
Indian Food: The spicy Vada Pav - a vegetarian food that is heavy as a baseball and dripping with chutney - costs 22 cents in Mumbai.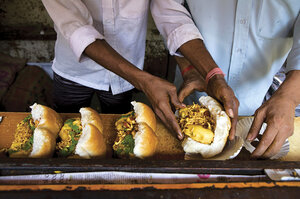 Melanie Stetson Freeman/Staff
The street vendor cuts into a roll, drops hot food between the halves, then, with a flick of a spoon, dollops sauces in the middle. He pushes it on a small paper plate to me, one of several guys sidled up to his stall to catch lunch on the street.
If this were Manhattan, we would be talking about hot dogs.
But this is Mumbai, the megacity of 14 million people also known as Bombay. Here, few people eat pork or beef. Instead, you could describe what sits before me as a deep-fried veggie burger with some serious street cred.
The vada pav marries a spiced potato patty – the vada – with a white-bread bun – the pav. But it also binds together Mumbai. Cheap and served outdoors, the sandwich brings laborers, office stiffs, and students elbow-to-elbow around the stalls. Even the making of vada pav is an act of local love:
"The bread is made in a Parsi bakery by Muslim workers," says Satish Vijaykumar, a young professional. "And the vada is made by Hindu [residents]. And Goan Catholics [from the neighboring state] are called pav. And all of Bombay eats it. This is amazingly the thing which unites Bombay."
I pick up the heavy-as-a-baseball Bombay burger. Dainty it is not. The mint and tamarind chutneys are soaking into the bun and flirting with that fine line between juicy and sloppy.
One bite produces the entire range of flavors found in an Indian buffet. The mint and chutney combo offers a sweet and tangy effect comparable to the ketchup, mustard tag team on Western sandwiches. But the dry red-chili chutney on the vada pav adds a third dimension of heat.
---