Little Tokyo, Los Angeles: Getting the flavor of the place
Feast your way to a new understanding of Los Angeles' Little Tokyo.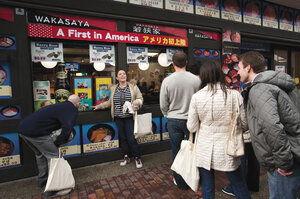 Stephanie Diani/Special to The Christian Science Monitor
Little Tokyo, Los Angeles
The fortune cookie was invented by a 19th-century Japanese immigrant, chopsticks stuck upright in a ball of rice are considered a death omen, and it's possible – though not recommended – to eat 231 gyozas (dumplings) in 10 minutes as Joey Chestnut did during last summer's annual Nisei Week.
Those are just a few of the morsels of information served up on one of the food and walking tours run by Six Taste Food Tours in Los Angeles. The 3-1/2-hour excursions offer foodies a window on both the cuisine and cultural life of various ethnic neighborhoods that many rarely explore.
"We wanted to show people a more interesting narrative sitting right inside their own city," says Jeff Okita, a fourth-generation Japanese-American who started the company last year.
The food entices the gastronomically open-minded to come, says Mr. Okita, "but we choose the restaurants based on their story and what they add to the understanding of a neighborhood, its people and its history."
We begin our tour of Little Tokyo huddled inside a reproduction of a Kyoto temple, located in front of the Japanese American National Museum. Our guide, Betsy Matz, a self-professed lover of all things Japanese, passes around a platter of Japanese pastries from the famed Yamazaki Bakery nearby. We nibble melon pan (a sweet flour pastry) and green tea mochi, made with glutinous rice.
---