Does a safer Iraq mean more US troops can exit?
Service member fatalities fell to 21 in December, compared with 126 in May.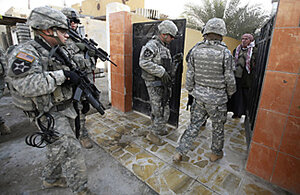 Bob Strong/Reuters
Security in Iraq has improved dramatically in the past four months, including much lower casualty rates among American service members. But there is little consensus yet if a safer Iraq can translate to an Iraq with fewer US troops.
The conversation about Iraq has changed from a year ago, just before President Bush announced a "surge" of what would become 30,000 additional troops. At the time, many experts doubted Mr. Bush's new policy, but some of that skepticism has faded, at least for now, as tangible benefits have emerged.
Chief among them is a significant drop in the number of Americans killed in Iraq each month.
During December, 21 US service members died in Iraq, and of those, at least 13 were considered killed-in-action (KIA), as of Dec. 31. That is far below the rates earlier this year, when a total of 126 were killed in May, just as the surge was starting. Even in October, when US officials were comparing how much less violence there was compared with the summer high, the amount of KIAs was double what they were in December. Although 2007 saw the highest total of US casualties for any year of the war, the precipitous drop has stunned many analysts and even military commanders who weren't sure the surge would have much effect.
Overall, violence in Iraq is down dramatically from earlier this year, according to Army Gen. David Petraeus, the top US commander in Iraq. The number of attacks per week is down about 60 percent from a high in June – a level that is roughly equivalent to that of the summer of 2005. Iraqi civilian deaths are also down in December by 75 percent from the high a year ago, he wrote in an open letter to troops last week.
---