Key factor in murder trends: youth, gang violence.
Some cities are seeing a drop in the number of officers on the beat and a shift in police resources to fight terror.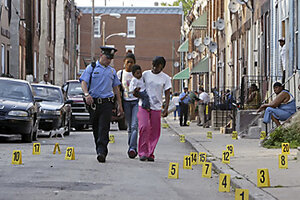 Joseph Kaczmarek/AP/file
Murders are down to a 40-year low in New York and Chicago. Yet homicide rates are on the rise in Baltimore and Detroit – and dramatically so in New Orleans.
In that variance is a positive story about cities' successful attack on crime and gun violence, but also an alarm about rising gang-related and youth violence, particularly within the African-American community.
Across the US, the incidence of intentional killing is still relatively low compared with the early 1990s, when crack and gang violence had a deadly grip on America's large cities. Indeed, the homicide rate is almost half what it was then. But it is ticking up – in some cities quickly because of surges in the number of young people involved in gangs.
An analysis of federal crime data by Northeastern University's James Alan Fox found a 52 percent jump in the number of murders committed by male African-American teens between 2002 and 2006, and smaller increases in those committed by black men and women. In contrast, the number of killings committed by whites of any age during the same period showed no increase.
---