Through 'give cards' and social networks, youths find ways to give
A growing number of connected youth nationwide are involved in philanthropy, according to experts.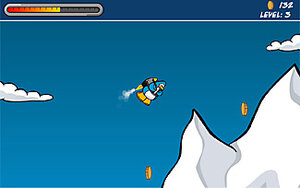 miniclip.com/ap
In Club Penguin, a popular online game club for the elementary school set, more than 2.5 million children gave their virtual earnings to charities in a contest this month. In response, the site's founders are giving $1 million to charities based on the children's preferences.
It's one example of many that point to children and teenagers nationwide getting involved in philanthropy more than ever, according to research and nonprofit experts, who credit new technologies with the rise of the trend. As young people increasingly become exposed to and connected with the problems of the world via the Internet and television, experts say, parents are finding new ways to instill in their children the value of giving. At the same time, technology is democratizing philanthropy so giving is not only easier for people of all ages, but also trendier. And children are starting to organize at the grass-roots level to give.
"We're seeing a generation of kids, ages 10 to 15, who are aware of global problems, and they're really searching to help." says Craig Kielburger, founder of Free the Children, a nonprofit network of kids helping kids.
Lane Merrifield, the cofounder of Club Penguin, says teaching youth about philanthropy is "part of our responsibility."
This holiday season, thousands of parents gave their children "give cards," sold through philanthropy sites such as GlobalGiving.com. Like gift certificates, the cards enable people to go to an online marketplace and find a charity to make a donation.
---